Cycloid is proud to present Cloud Carbon Footprint, our own cloud carbon emissions module integrated with our established FinOps solution. We're taking a unique GreenOps + FinOps approach to monitoring cloud computing emissions by connecting your emissions data to your cloud expenses so you see both costs to your budget and the cost to the environment in the same place. We're hoping this approach will promote a culture of sobriety, where companies will start making more environmentally conscious decisions by reducing the amount of cloud waste.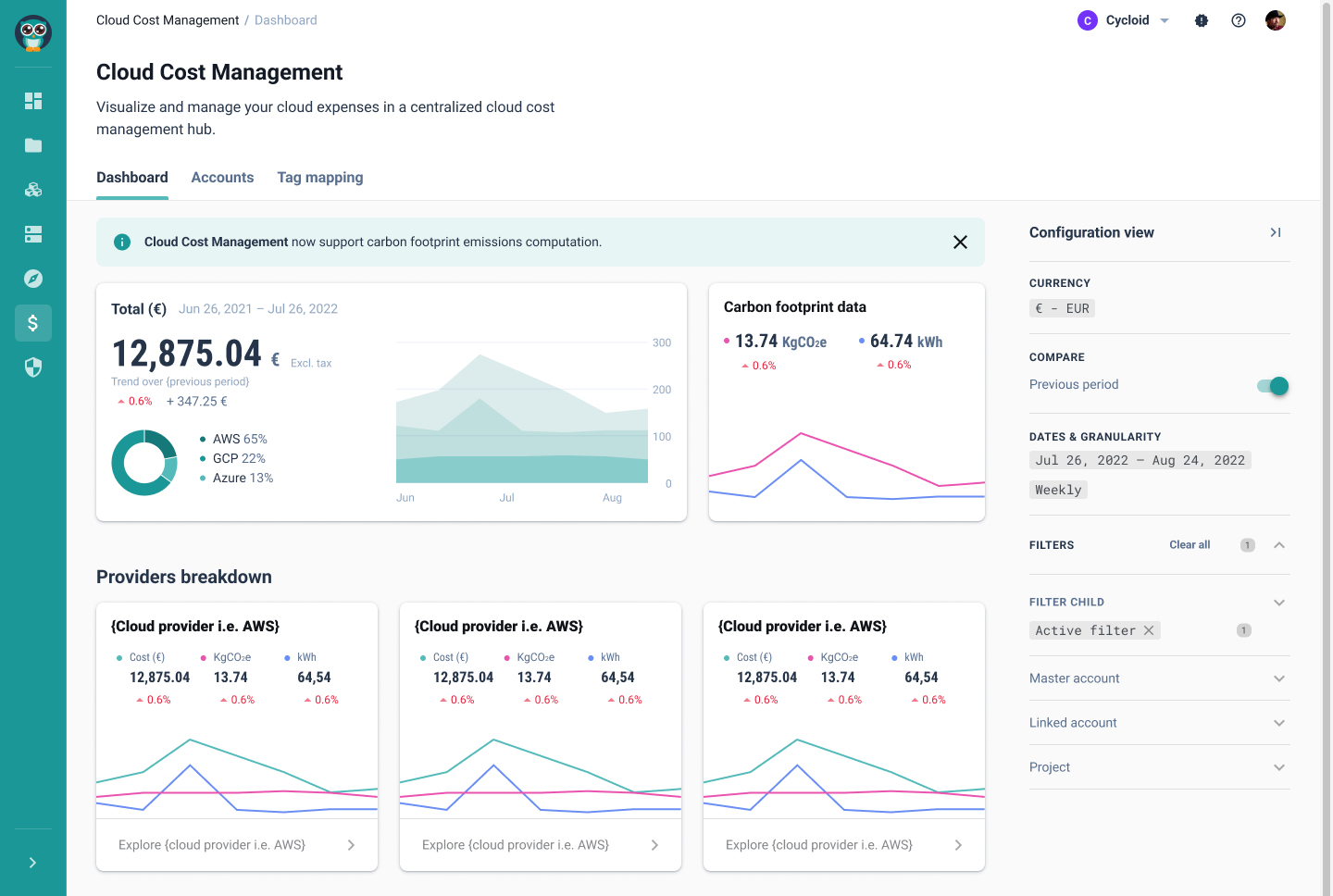 The cloud is not a cloud

Most people seem to forget that "the cloud" is not a cloud at all, but rather a series of massive concrete buildings full of servers that need constant cooling. It's not hard to guess that the combined electricity required to run these servers amounts to a large carbon footprint that has huge consequences for the environment. In fact, cloud computing carbon emissions range from 2.5% to 3.7% which exceeds emissions from commercial aviation (2.4%), and, as the world's going more digital, this number is only going to grow. There is no doubt – companies that engage in cloud computing need to start taking real steps toward reducing their cloud carbon footprint. This is where Cycloid's new solution comes in.

Cloud Carbon Footprint in detail

Cycloid's newest GreenOps module is an integral part of our FinOps solution – Cloud Cost Management. It displays carbon footprint data alongside your cloud costs and allows you to get a holistic view of both your cloud consumption and its environmental impact. Our goal was to address 3 main issues organizations have when it comes to managing their cloud carbon footprint:
Real data and visibility;
Understanding data in human terms;
Clear course of action.
Watch the product demo

Precise cloud carbon footprint data

Cycloid's Cloud Carbon Footprint management uses sophisticated emissions methodology based on Cloud Carbon Footprint open-source project. We took a bottom-up approach where we use the atomic cloud resources usage calculated against cloud energy conversion, power usage effectiveness, and grid emissions metrics. This methodology is best explained in the graphic below.





This methodology allows having fine-grained information on all dimensions, including time, projects, environments, clouds, services, etc. to track exactly what is needed.

This data is then displayed next to your cloud cost data and can be filtered the same way as your cloud expenses - by provider, project, date, region, etc.

Real-world equivalents

Now that you have all the data on hand, you can finally start walking the walk when it comes to cloud sustainability… Wait, but what does 298.33 kgCO2 actually mean? Is it too much or too little? How sustainable is your cloud consumption?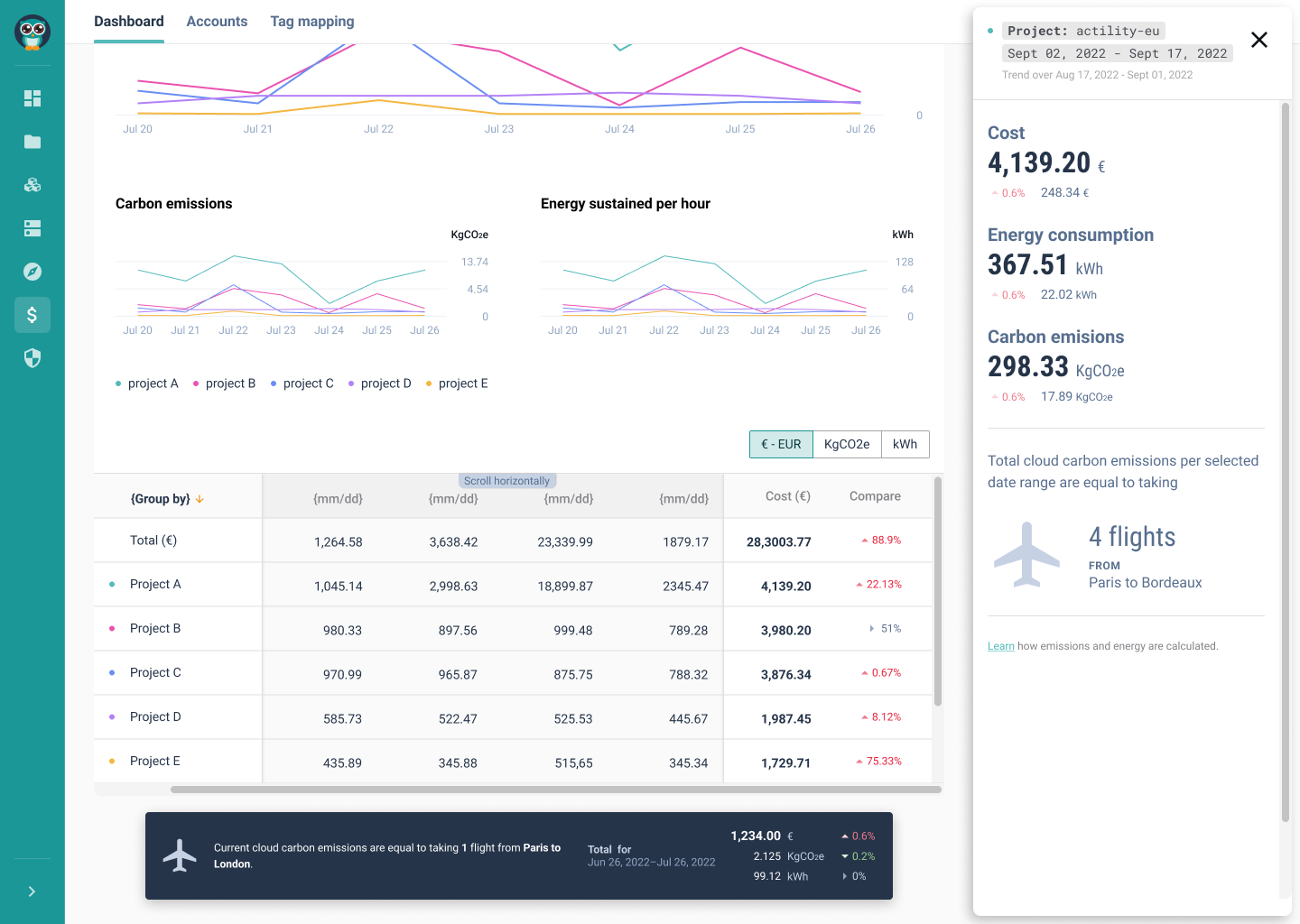 Most people are not yet well-versed in the intricacies of carbon footprint calculations, which is why the Cloud Carbon Footprint module includes human equivalents for each data point. For example, 298.33 kgCO2 is equivalent to taking 4 flights from Paris to Bordeaux. Makes you think about your traveling habits as well as cloud consumption, doesn't it?

Consume less, spend less
At the heart of Cycloid's sustainability principles lies the concept of sobriety – consume less, spend less. After all, no matter how "green" and sustainable some datacenters options may seem, the only way to make a real difference to your cloud carbon output is to use less cloud.

According to Gartner, in 2022 companies generated $26.8 billion in cloud waste – which means all of those servers were paid for and engaged to run… nothing. Not only is this a major waste of money, but also a huge waste of the planet's dwindling resources and goes against any cloud sustainability principle.

By giving organizations an opportunity to look at real carbon emissions data, we hope we can inspire them to make better, more environmentally-friendly choices. Don't leave servers running over the weekend. Only use the resources you need. Take a closer look at your cloud spending and optimize cloud usage.

This will benefit not only the environment but your budget – and especially now, as the tech bubble is bursting and the world is going through yet another financial crisis, the cost is not the least important on your list of priorities.

Final word – GreenOps is non-optional

Cloud Carbon Footprint is the only Cycloid feature that you cannot turn off (and that's a pretty big deal). Here at Cycloid, we pride our platform on the flexibility of choice – you can pick and choose modules and assemble an opinionated custom platform that will do exactly what you need it to, no more, no less. By making GreenOps non-optional in our FinOps module we're taking a stance against cloud waste, overspending, and mindless cloud consumption. This will encourage organizations to start thinking about the environmental impact of their business. Cloud Carbon Footprint will not solve climate change – but for many, it will be the first step toward conscious consumption.


If you'd like to support this stance and take your cloud consumption under control, click the button below to arrange a personal demo and our team will take you through our Cloud Carbon Footprint solution.