Today, we want to show you how Cycloid is currently being used in a situation that is pretty unusual, both for our customer and for us. Coronavirus has had an impact on almost every business imaginable, but the consequences for organizations that need to plan in advance around events that rely on mass public participation have been huge. The organization that we're looking at today found itself in precisely this situation and immediately got to work trying to find a workaround. The process makes for some pretty interesting reading, so let's take a look.
TL;DR
We want to show you some of the ways Cycloid helps businesses be the best they can be. Today, we take a look at how the Croix-Rouge Paris is coping in times of Coronavirus crisis.
The challenge
The Croix Rouge Française is the French arm of the globally-renowned humanitarian association, the Red Cross. It's an organization that responds to humanitarian crises in conflict zones and disasters all over the globe. They prime themselves on their ability to respond quickly to emergencies, which is why the fast and efficient deployment of resources (both operational, human, and financial) is one of the most critical parts of their job. Then coronavirus came along...
The solution
Coronavirus is a situation that requires a slightly different approach to the normal context the Red Cross operates in. Usually, the organization plans resources well in advance around the many events that normally happen in a country - concerts, sporting events, protests, local initiatives, etc. There is time for organization, lots of specific opportunities and needs, and decisions can be taken in relative ease.
Coronavirus, however, has put an end to the luxury of advance notice. Croix-Rouge Paris realized that they needed a tool to help them organize and plan on very short notice, something that allowed them to provide day-to-day management while interacting with government bodies and local associations that themselves were in constant flux thanks to the ever-changing nature of coronavirus.
How Cycloid got involved
The Croix-Rouge Paris rose to the challenge by creating ResOP. This tool helps plan and project the need for human and operational resources in the context of the COVID-19 pandemic. Cycloid got involved in the Croix-Rouge's very worthy work when a personal friend of one of our DevOps engineers reached out to us. They had the tool, but they needed a framework for hosting it. Given the circumstances, they didn't have months to scope it out and ramp it up - they needed efficiency, now. Could Cycloid help?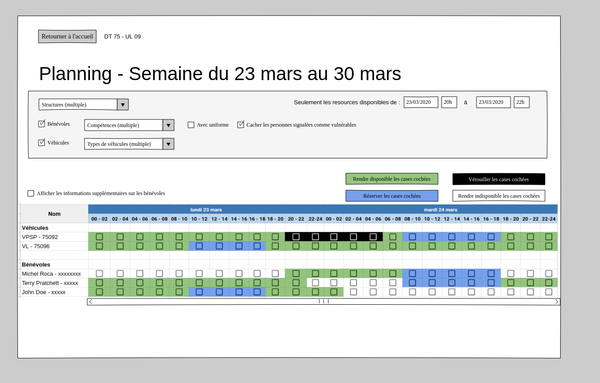 ResOp mockup on Github
We certainly could. In this context, we quickly designed a pipeline aiming to deploy a cloud infrastructure for the production application, pro-bono, so they could release ResOp - just like any of our regular customers. So far, things are going great. The app is doing its job - getting resources in a crisis situation to the people who need them most - and we're pleased to be doing what we can to help.