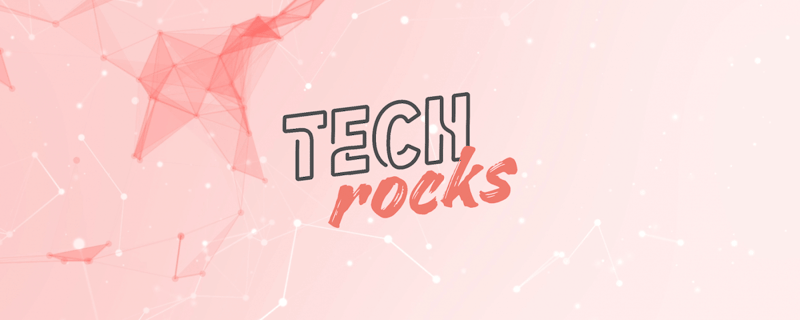 To end the year on a high note after participating in events such as DevOps D-Day, and DevOpsCon Germany, Cycloid attended Tech Rocks Summit 2021 (as participant and partner!) As usual, we sent a team to make the most of this online event. That's how Meggie Juton, Stéphanie Laumon, Julie Horville, and me, Chamseddine Saadoune, spent 2 days (December 9 and 10, 2021) in 100% Tech rocks mode 🤘
More than 40 speakers, 2 parallel tracks (inspirational & operational), and subjects as varied as the evolution of the company and the world of work, data management, security, and even green IT and quantum computing! For those wishing to talk business or simply network, speed meetings and round tables were offered. Almost looked like Christmas had come early!
So, what were the trends, hot topics, and my favorites? Read on to find out…
How do you build a company that's attractive to techs?
This is THE question of this edition of Tech Rock Summit and you know better than me: it's very complicated to recruit today and, worse, to retain your employees. With a hypercompetitive market and employees who are human beings above all, it's important for companies to understand the challenges, desires, and will of each individual in order to respond appropriately and allow teams to be ever more competitive and efficient.
From recruitment…
"There is no shortage of talent, just a dearth of companies that devs want to work in.". It's with this quote that Arnaud Lemaire begins his talk Sunday, feedback on building an attractive company for techs. And, although the talk was only focused on the point of view of developers, it's clear that this quote and the advice given also apply to other trades in the world of tech (and probably beyond).
First, Arnaud explains that to attract techs to business, all you have to do is follow certain rules. For example:
Offer something concrete through a project responding to clearly-identified business issues
Techs know each other and will seek off-screen information on the reality on the ground, so be as transparent as possible
Have teams with experienced people and remember that the technological aspect is not the most important
These rules, among many others, are easier said than done. However, I think they are important to consider in your recruitment process in order to attract the best talent. Besides, a little shoutout for Cycloid by specifying that we are also recruiting! And that I'd love to chat with potentially interested people on Twitter if you like.
That being said, Arnaud also gave some additional advice in terms of recruiting or managing growth, as his company grew from 0 to 65 employees in just 5 months.
Among his advice, we find "to take people who have already worked together" because as he puts it so well: development is a team sport and we must seek a team spirit in the candidates. The "reverse interview" is also a surprising discovery for me, as it allows the candidate to come up with a problem and a way to solve it by working with the target company. However, the framing and implementation of such an interview remains to be seen over time, because it may take time - but it's probably more rewarding and surely allows both parties to get to know each other better.
Finally, in terms of growth, Arnaud emphasized the need to have mature teams, ideally small (like the 2-pizza teams popularized by Amazon), homogeneous (having a good senior/junior ratio), and supported by management that promotes values such as autonomy and quality onboarding.
These different aspects are crucial to attracting talent. I have always seen the recruitment process as a "gateway" to a business. Taking care of your recruitment process and thinking about the aspects that interest candidates (much more than the salary!) are in my opinion the first steps to being an "attractive company". But, once you're in the company, what about the reality? Should the business rest on its laurels?
…to well-being at work…
Whether you are newly hired or have been in your company for years, it's interesting to ask yourself what are the real needs that drive you every day at work. Is it the will to accomplish something? To participate in a project that makes sense? Have an income at the end of the month? This question of knowing what you need to be successful at work is essential for you, but also for your business.
Indeed, well-being at work is an important element in individual success, but also collective success within a company and the most productive employees are the most fulfilled, it's not a secret. Precisely, for Lara Hogan in her talk What humans need at work, we all have 6 core needs at work (and in our personal lives) that we can summarize in this acronym: BICEPS.
But what is it? In summary, BICEPS stands for:
B

elonging: community, connection

I

mprovement/Progress: progress towards purpose, improving the lives of others

C

hoice: flexibility, autonomy, decision making

E

quality/Fairness: access to resources & information, equal reciprocity

P

redictability: resources, time, direction, future challenges

S

ignificance: status, visibility, recognition
This "framework" created and popularized by Paloma Medina makes it possible to highlight the most important needs for us, but also for others. Each person will categorize their BICEPS in a different way and, as Lara points out, we are motivated (or worried) by at least one of these core needs. Worse still, we tend to think that our core need #1 is more important than that of others, which of course is a misconception that I share.
That makes it really important for companies, managers, teams, and even the individual level to understand the core needs of each other in terms of communication, understanding, and feedback, which in turn improves greatly, as Lara pointed out.
But, even if from a macro point of view the needs are clearly identified, they still need to be addressed in a more specific way. As we've spoken about before, a term comes up more and more in this context: DevX (for Developer Experience) in order to give a framework and improved conditions to the developers in the execution of their daily work.
The whole subject of Aurore Malherbes in her talk DevX to accelerate and engage your technical team tells through a pretty story what she calls the "DevX triptych" made up of the following elements:
Look for technical tools in order to limit the "irritants". For example, reduce repetitive tasks, optimize your CI/CD (Continuous Integration/Continuous Delivery) process, etc.
Define a dedicated time/space in order to carry out value-added actions that will save you time.

For example by organizing breaks in your

sprints

or by promoting Kaizen days

(based on the Kaizen philosophy and continuous improvement which I find very relevant).
Clarify ownership

on the technical bricks, but also on the holding of specific meetings or follow-up points
So besides the fact that a good DevX allows developers to better use/work on your product and thus focus more on their BICEPS and what matters to them. Remember, the technical dimension (the tools) isn't the most important aspect, but collaboration/communication/culture is an important part of this philosophy.
The only downside to this philosophy is the almost exclusive focus on developers. Indeed, other employees who are just as important in providing added value in the IT field (and in others) also deserve to be concerned about improving their "experience" at work (their well-being at work). Like User Experience, maybe we should talk more about Employee Experience in the broad sense to be a totally attractive company?
... without forgetting the evolution of work and the company
Finally, to be an attractive company, it's not all about one point in time. No. Being an attractive company must be an ambition that lasts over its entire lifespan and takes into account the fact that change is inevitable both in its organization and in the work of its employees.
Erin Meyer in her talk No rules! explains it very clearly with her take on organization & culture at Netflix. In short: Netflix is an attractive company because it's constantly reinventing itself. How? By giving employees more freedom via the 3-step Netflix experience:
Increase the talent density: by having a company made up as much as possible of "amazing employees", we thus give a significant amount of freedom to the whole, and prevent the organization from falling into processes and complex and innumerable rules (which are almost unnecessary for these talented employees)

while fully promoting innovation and flexibility.

Increase candor:

by providing a culture of open-mindedness and constant honest feedback, we improve the general productivity of the company and

prevent some employees from dishonestly taking advantage of the freedom granted

, while increasing the density of talent internally.

Eliminate controls:

finally, we give great freedoms to employees and try to apply this simple rule:

"No rules"
Interesting point of view to promote a better Employee Experience I think. Even if I suppose that this approach is difficult to apply in all companies (yes, not everyone is Netflix), it's clear that Netflix offers here a new form of work that seems to be successful and to which we can aspire.
Precisely speaking of new forms of work. Benjamin Brial, founder of Cycloid, and Anne-Claire Long, a communications consultant, explored this subject in their incredible talk New forms of work: how to empower and connect teams?
In short, they spoke about the full-remote environment to which Cycloid has been anchored since its creation. They also touched on the internal culture centered on responsibility, autonomy and the paradigm of a teal organization. And finally a completely transparent approach with, for example, a global view of financial data such as the salaries of all employees. Yes, all of this is real and these changes in working methods and in the business are most often accompanied by a clear and shared vision, as Benjamin explained. Very relevant things to build an attractive company in my opinion.
Finally, even as working methods change, we must also keep in mind that the company itself is changing. And teams, components, and products are and will be different from one moment to another and will certainly find it harder to interact when an architecture (organizational, application, etc.) is not suited to change.
The whole subject of Cyrille Martraire and his superb talk Architecting the Growth where he highlights a concept that had intrigued me in several other conferences without really fully understanding it: Domain-Driven Design (or DDD) described by Eric Evans in 2004.
What really stuck with me about this approach is the logic behind the notions of boundaries, domains, and contracts, and, finally, how to calmly apprehend the inherent complexity to the evolution of an organizational and application environment. Without a doubt, it was one of the best talks of this summit along with Gregor Hohpe The Architect Elevator reinforcing the message with a simple principle: to connect business/business strategies to technical implementation (and vice versa).
What if an attractive company was also a sufficiently well-architectured company to welcome, but also keep its employees throughout its growing development? A real question to add among all those mentioned. Building an attractive business (in tech or in other areas) definitely seems to be a real reflection on a significant number of relevant questions and answers.
Data & Security, what else?
From a more technical point of view, two subjects particularly stuck with me at this summit. One, data management and analysis, and the other, security.
Data management, a major stake for big rewards
You may know, but I'm very passionate about data analytics, data management and even data visualization. It's simple, I'm convinced that a major performance driver of an organization (and ultimately its "black gold") lies in the data and the way in which it is exploited.
So you can imagine that Simon Maurin and his talk From hack to data mesh, the evolution of data engineering at leboncoin particularly captivated me, since it was about seeing the evolution of data management in his company. From an "artisanal" mode to the implementation of an ETL (Extract Transform Load) with a BI (Business Intelligence) solution, going through the construction of a Data Platform and finally entering the world of Data Mesh.
And there, I was surprised to hear that this last concept pushes the notion of Domain-Driven Design (mentioned above), a little further by proposing a model of "collaborative" data management in perimeters confined to domains of data. They are topics that I will dig into and probably report on in future articles because they are fascinating!
Finally, even if architecture and data management are properly implemented, they still need to be exploited. And the operation and analysis of data can be done at all levels, from operational to management. Collecting and analyzing as much data as possible then makes it easier to answer the questions asked.
For example: "How do you beat the All-Blacks?". This is exactly the kind of question asked by Fabien Galthié, coach of the French rugby team. And, in his talk Data for management, he explains the role that collection and use of data played in his decision-making. Whether through boxes in players' shirts, or even by considering the placement of a chip in their mouthguards. Fabien explained that analyzing data allows him to manage time better, do predictive work, and analyze an opponent's play. Beautiful things that contributed to his team's victory against New Zealand on November 20.
Security, always think about security
It's an advantage to create, collect and analyze data. But, you also know it: today more than yesterday and much less than tomorrow, a real challenge for companies is to ensure the security of their data. Troy Hunt in his talk Lessons From Billions of Breached Records recalled this once again with many comments on the security breaches found or reported to him. A goldmine that reminds us that any system is potentially fallible and that a true culture of cybersecurity in business is the best way to guard against maximum risk.
And surprisingly that was exactly the objective of Tobias Rohrle and his talk The 10 commandments of cybersecurity for startups, which lists the following commandments and examples:
Educate:

instill a culture of cybersecurity in the company

Secure access:

provide a password policy, access controls

Map and see:

know your attack surfaces, manage your security events

Monitor:

learn about threats that evolve on a daily basis

Get equipped:

antivirus, firewall, encryption at rest and in transit

Procedure and rigor:

think about making software updates, establishing access request/incident management procedures

Prioritize:

the criticality of vulnerabilities is often different from the time it takes to implement a fix

Require from partners:

require the various partners to have as high a level of cybersecurity as you do

Anticipate:

think about the disaster recovery plan, business continuity plan, backups

Physical security:

don't forget the risks associated with intrusions into premises, theft of computer and telephone
Considering these 10 commandments is a good start for any type of business, not just startups in my opinion. Do you agree?
Height taking and cool subjects
In addition to topics related to companies, cybersecurity, and data management many other themes on other major issues were discussed during the Tech Rocks Summit. Below is my "top" of the best talks on topics that I think deserve to be addressed more in other events:
First, a bit of green IT with the impact of the life cycle of a mobile phone and other IT equipment on our world (in terms of greenhouse gas emissions and waste for example) and on our lives (working conditions, monitoring, and use of data) mentioned by Agnès Crepet & Esther Onfroy From the transistor to the octet, what happened to ethics? or by Jean-Pierre Goux during his keynote The Earth from Space, a vision to change the world.
Second, the importance of design in tech by Amélie Boucher Design in tech: issues and practical advice, where she explains that the integration of design is a major issue as users are more and more demanding about the quality of their experiences.
And to finish a little bit of quantum computing with Julien Bobroff The quantum computer: a revolution? who, for 40 minutes, managed to popularize not very obvious concepts such as duality, quantification, superposition, or entanglement while giving his opinion on the future of quantum computing and its challenges.
Tech Rocks Summit was a pleasant discovery for me and a successful event for Cycloid and all the participants and organizers. Can't wait to see the 2022 version, maybe in person (we hope)!
Want to see what Cycloid gets up to next?