One of the things you accept when you're a freelancer is that, along with the freedom and ability to work from a beach in Bali (I mean, it would really upset my husband, but I could), you sometimes get the short end of the stick when it comes to benefits and non-monetary compensation.
TL;DR
Cycloid wasn't happy that some freelancers didn't have the same rights and entitlements as traditional contract employees. They made a plan to change that, called the harmonization plan.
Current situation
Our starting situation in Cycloid was like this: employment contracts were broadly divided into French contracts (it's a French company!) and freelance contracts. In France, there were 2 types of contracts, whereas among the freelancers, there were country-specific ones, all with different conditions and allowances depending on the location. At last count, that amounted to 9 different freelance contracts.
There were a few things that differed as a result. French employees had health insurance and lunch vouchers, as well as French public holidays and a type of benefit known as time off in lieu (RTT). Obviously, freelancers had paid holidays and even bank holidays (yay!) and everyone had 1 month paternity leave, but what they were specifically entitled to depended on the country they were located in. By the time we added up all the different possible combinations, we discovered that there were a massive 12 different time-off policies throughout the company. For such a small company, that was a boat-load of difference!
Why change?
Cycloid is the team. The team is Cycloid. And we didn't think it was fair that some of that team had 8 bank holidays, for example, while others had 14 (yeah, I'm talking about myself here). That wasn't all - there were other small differences between team members and, increasingly, it didn't feel right.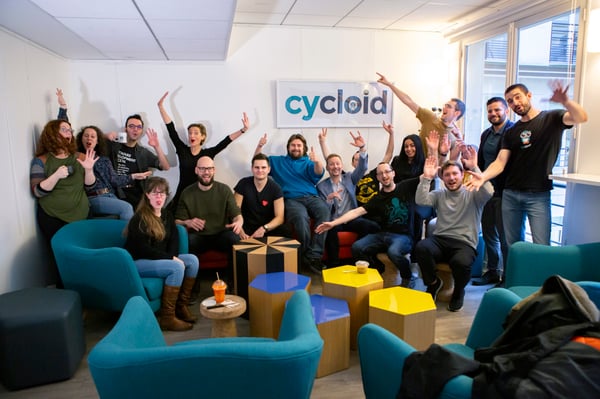 The Cycloid team - contract workers and freelancers. Pre-Covid-19, we used to get together a few times a year.
Proposed situation
Once we decided that something had to be done, the valiant HR team jumped into action. They came up with something we call the harmonization plan. The aim - to harmonize the benefits and holidays received by Cycloid and to make it more equitable for all team members. Unsurprisingly, this took a lot of effort and over a week of solid work. What resulted was really quite startling (in a good way!).
Feedback from the team
As with most decisions in Cycloid, the proposal was presented to the whole company, and feedback was solicited from anyone who was interested. By and large, it was a very positive change, so there weren't many objections - more like clarifications and explanations.
One aspect of the new plan did require some discussion. It was suggested that the Cycloid office close for a 10-day period over the Christmas season. Founder Benjamin believes a total office shut down is the only way to make sure that employees get a true break, since everyone can be sure that no one else might need their help or action.
Even so, not everyone agreed. We had a spirited discussion on the subject and, finally, this particular idea was dropped. The rest of the harmonization plan was passed intact.
Following feedback...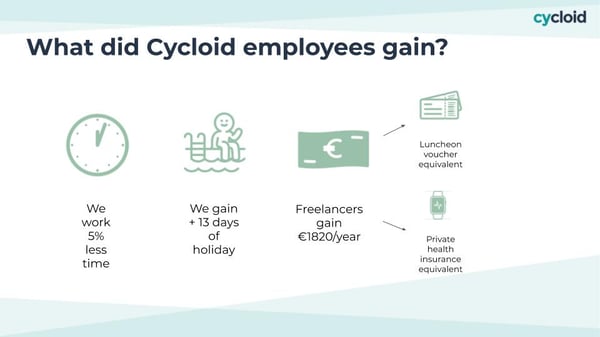 Looking forward
The companies of tomorrow don't look like the companies of today. Expectations and realities are changing, hurried along, in part, by things like coronavirus. If you want the best people, you need to be the best company (and we're talking in terms of best for an employee, obviously).
Pool tables and overflowing free coffee were cool for a while but as employment and, especially, remote working grows up, it's clear that the things that attracted people to the office in 2005 are not the things that are going to attract them in 2025. Whether or not Cycloid has hit the nail on the head with our harmonization plan remains to be seen, but we're certainly happy to try.
We'll keep you posted.