Hi! Today we're going to talk you through your very first steps with Cycloid. We'll run down through some of the terms we use and show you how to create your first Stack.
Sign up for Cycloid
Cycloid comes in two modes - Essential and Enterprise. Essential is free for an unlimited number of users. Enterprise is a pay-for option. Enterprise offers extra features specifically for managing enterprise-size deployments.
Find out more about the subscription modes
The Free Trial
We offer a 30-day free trial that lets you try almost all of the Cycloid features, both Essential and Enterprise. At the end of the trial, you'll be able to choose which mode best suits your company's needs. When you log in for the 1st time, you'll see where you can sign up for the free trial.
Read more about the free trial
Finding your way around
Once you're in your account and you'lve signed up, you have a number of ways of finding out how things work.
At any point, of course, feel free to just email us. Once you sign up for one of the subscriptions, you might also have the option of Slack support. If not, there's also a public forum where you can get peer help.
You can also get started with Cycloid via...
the in-account launch presentation

(this will play automatically the first time you log in, and you can access it again, inside the Cycloid console, by clicking the question icon in the top right)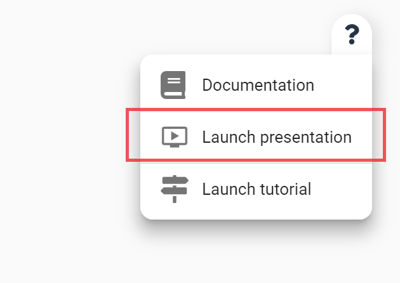 the in-account walkthrough tutorial (inside the Cycloid console, the question icon in the top right)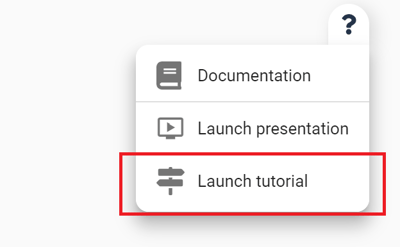 Organizations within Cycloid
Your first task once you get started will be to create an organization.
Everything in Cycloid works via organizations. Organizations are made up of teams, and teams are made up of individual members. You'll define roles, policies, and credentials for these organizations, teams, and members to ensure everything (and everyone!) stays under control.
Members can be grouped into teams. Each member must be assigned a role before they can access the organization. Cycloid sets up 2 default roles for you to use, which are Admin (access to everything) and Member (read-only access to everything). Organization members can also be grouped into teams, so you can really drill down into permissions/access to define what they have access to see and do.
Alternatively, you can skip adding additional roles to a team and just have them group them as per the team names you have in your company - marketing, backend, finance, etc. Once an organization has been created, click on it to see everything that organization contains, like projects, pipelines, credentials, repos, etc.
Create your first organization
The Cycloid Stack
If members in Cycloid are managed via Organizations, then all the tech is managed via Stacks. As we see it, a stack is a template for multi-layered tech - infra, provisioning, and monitoring for example. Add a configuration, and you get a configured stack, ready to go. Stack and Config can be in the same repo and branch, same repo and a different branch, or a different repo and different branches, the choice is yours!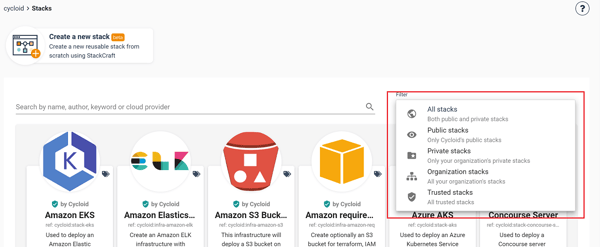 We maintain a small public selection of commonly-used Stacks based on popular open-source technologies like Terraform, Ansible and Concourse. You can access these public stacks or make your own.
The ability to configure your own stacks is a really interesting Cycloid feature. You can create Stacks customized for your organization and then save them to your own private catalog repository for future use.
More about creating a private Stack
Users can create and use these Stacks without even having to understand infrastructure as code that underlies them:
StackCraft allows a low-effort way of creating new Stacks via a drag & drop interface.
StackForms allows the least-technical members of your team to configure Stacks from a limited, pre-approved (by you or your ops team) range of options. This allows them to "self-serve", saving valuable ops time, but ensuring they stay on the straight and narrow and don't wander into areas of trouble.
Of course, you can always create or modify a Stack the original way, using infra as code, but you (and your users) don't have to, which makes all the difference.
Get started on a Project
Once you've signed up and created a stack, you'll want to create a project to actually start doing anything. First of all, pick a Stack and decide which environments you want - Demo, Pre-prod and Prod are pretty standard, but you can call them whatever you want. Once you've filled in all the variables and pressed save, Cycloid will automatically create the associated pipelines.
See everything in the Pipeline
Once the pipeline's up and running, you'll be able to follow each commit across your workflow and access further details for each step. The beauty of the pipeline is that it's totally customizable: a new commit to a repository, a Github release, a periodic trigger. You name it, the pipeline can monitor it. You can also approve automatic processes across the pipeline or a mix of automatic and manual approvals - it all depends what works best for your organization.
Your future with Cycloid
This is a basic introduction and typically describes what you'd do during your first or second time using Cycloid. That said, we'd be remiss if we didn't at least mention some of the other things you can do once you've got your Cycloid account (an organization and at least one project) set up.
Remember, Cycloid's ultimate aim is to help everyone on your IT team work better and more efficiently together. Everything is centralized and optimized for maximum team involvement. Start with your organization and work from there.
Ultimately, your team members will be able to schedule environments for cost optimization, inspect the details of the infrastructures, and see all logs pertaining to all your services centrally. The events timeline will give everyone visibility into actions and the status of projects so that nobody's ever left in the dark, while those who need more advanced control or in-depth access to your services and tools will have it, without compromising on access for others. The DevOps way is a brave new world, and it's within your grasp!