"Adapt or become irrelevant!" is the motto of digital and IT transformation.

Just as IT organizations are under enormous pressure to remain afloat in a tough economy, traditional MSP/SI and IT consultancies also face shrinking margins. While they still hold the higher ground in terms the latest technical expertise, improved security, and cost optimization, the demands of the industry are even higher - and IT consultancies now have to compete with the major cloud providers that have vastly extended and matured their offerings.

Seasoned service providers are opting out for a better solution and partnering up with platforms that can handle the growing demands for DevOps, automation and cloud management - often called internal developer platform or IDP. A platform that supports remote access and collaboration, strong security, multi-cloud monitoring and management and automation is instrumental in IT operations today - and would be an invaluable resource for service providers.

Orange Cloud for Business, a subsidiary of Orange Business Services that manages applications, middleware, and operating systems for third parties, has already chosen improved governance, team collaboration and enhanced customer visibility with Cycloid, the DevOps and hybrid cloud platform. They report 4x faster operations, improved customer service and reduced human error - and this is just the tip of the iceberg.

Time is of the essence. Here's why partnering with an internal developer platform is crucial to an IT consultancy business strategy - both for the clients and internal processes.

Attract new customers

There is a gross overabundance of tools and solutions on the market - an average developer uses up to 28 tools daily. There's certainly a need to simplify and streamline. That's why a comprehensive developer platform that acts as a cornerstone to multi-and hybrid cloud monitoring, automation, and team collaboration can be the make-or-break element in an IT company's success.

Any MSP/SI that has such a solution in its portfolio will look like an attractive candidate. Take a look at Cycloid's self-service portal, automation, and built-in FinOps modules - can you imagine your customers' eyes lighting up with excitement? We can because we've seen it.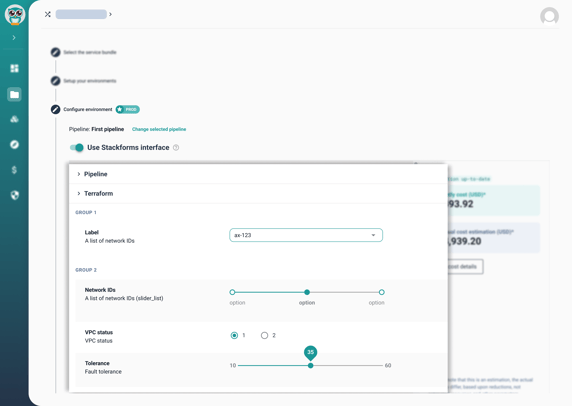 Speed up build time

What are the main speed bumps when it comes to time-to-delivery? Setting up automation, environment configuration, and - you guessed it - tickets. When your own DevOps engineers have to spend time dealing with repetitive tasks instead of focusing on their core duties, this is going to put obstacles in your delivery process.

A developer platform focused on fostering a culture of automation and reusability will allow you to free your DevOps team from the mundane day-to-day. A built-in service catalog of pre-configured environments will alleviate the pressure from your DevOps and allow end-users to service themselves independently.

Not only will this maximize your own operational efficiency, but your customers will also find it an attractive prospect - who wouldn't want to boost time from design to presales to production?

Balance control

Transparency is becoming a must-have quality for service providers as IT infrastructure gets closer to the business side.

A unified cloud monitoring and management platform is necessary to get the high-level view that business alignment requires. Modern platforms should also show relationships between a business service and the underlying infrastructure components, to help prioritize and speed the resolution of issues.

Just as complete observability and transparency are crucial, proper governance also plays a major role. A good platform should be able to do just that - open up your automation to customers without sacrificing the necessary control.


Upskill your team

Businesses are starting to see the importance of team transparency, hybrid cloud adoption, IaC rollout, and using DevOps best practices - and the consultancy must be able to answer these demands. But is building a new IDP every time a customer requires it the right move?

Partnering with an IDP will free up your team to work on innovative custom solutions for your clients, while also upskilling them in all the important matters (like hybrid cloud and DevOps best practices!). Here at Cycloid, we feel very strongly about upskilling that's why we're releasing an ebook about the link between upskilling and DevX. Subscribe to our newsletter to be notified when it's out (we promise no spamming!)

Conclusion

There's value in partnering with experts instead of doing everything yourself. A well-developed IDP with a wide range of features and positive results might suit your customers' needs better than a platform built from scratch. Not to mention it will need maintenance and upkeep which would take your own talent away from their core tasks, like supplying excellent IT support to your clients.


Cycloid is a partner-first organization that helps partners become strategic cloud advisors, help clients rationalize and simplify technology stacks, become automation experts, and enable client innovation.